What is the Maximum Level
The Maximum Level represents the highest level of security of the garage that can be achieved according to the Viro classification.
It is preceded by the Standard Level and by the Upper Level and it is an indicator of the resistance to attempted break-ins and burglary verified through tests.
No lock can resist indefinitely to break-in attempts, but there are some which considerably complicate them.
The greater the resistance increases, the longer will be the time necessary to enter the garage.
The Maximum Level anti-theft-products considerably increase the break-in times, thereby increasing the probability that the thieves will be seen and/or heard.
Make the garage more secure by using Viro Maximum Level products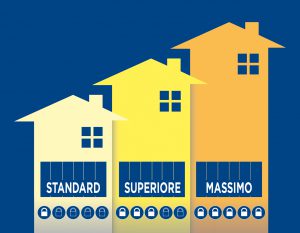 The value of the items stored in garages is often very high; one needs only to think of cars, electric bicycles, racing bicycles, and the many valuable items and pieces of equipment and tools which are kept there.
It is often also the case that they are connected to the actual house through a door.
In one case or the other, it is essential to concentrate on the security of the garage by using the best and most efficient anti-theft products available.
The majority of doors installed are fitted with standard locks that do not even reach the minimum level according to the Viro security classification and are extremely vulnerable.
If you want to make your garage secure it is essential to overcome the vulnerability of the various types of doors to break-in attempts.
The Viro anti-theft products are interchangeable with the locks most commonly installed originally and allow the Maximum Level of security to be achieved.
Solutions for all types of doors
Viro offers a wide range of solutions that guarantee the Maximum Level of security of the garage for whatever type of door is installed.
the Viro products have been designed to overcome all the main problems of the security of your garage for the various types of doors used.
Multipoint armoured locks, fastening units, universal locking bars and solutions for motorised doors: there are specific products or products which can be adapted to any type of door thanks to the installation kits.
What type of garage do you have? With up-and-over door, with roller shutter or with folding door?
Search through the Maximum Level products to find the solution which makes your garage secure and reduce the risk of thefts!