Do you have a garage with an up-and-over door? Here are the solutions to make it more secure.
The garages with up-and-over doors are very widespread.
Its structure, and the mechanism which guarantees a smooth and quiet opening, make them particularly popular in condominiums.
This aspect, which usually represents a strong point, can also become the main reason for its vulnerability.
If the security is not suitable the quietness can represent a further advantage for the thieves
The low noise level when opening can allow them to act undisturbed, without attracting the attention of the owners or neighbours.
To ensure that the low noise level is only a benefit, and not a risk factor, it is necessary to increase the security level of the locks of garages with up-and-over doors.
The armoured locks for manual up-and-over doors with Upper Level security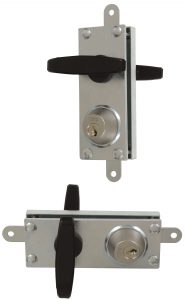 To increase the security of the garage, Viro offers Upper Level solutions which are interchangeable with the locks fitted originally.
To have a more secure garage with up-and-over doors the first step is to replace the standard lock with the armoured lock for up-and-over doors (series 8217). 
With the  two external protection plates made of galvanized steel, the total thickness is 5 mm.
The cylinder, made of solid brass with 5 pins, has a case-hardened, tempered, copper and nickel-plated steel, pull-resistant and anti-drill protection.
The interchangeability is also guaranteed by the increased length of the cylinder connecting bolt and fixing screws, which allow installation also on extra-thick up-and-over doors (up to 40 mm).
The opening from the inside occurs thanks to a removable blocking screw which is impossible to grip from the outside with burglary tools.
With the armoured locks, the security of the garage will no longer be a problem.
Accessories which can be integrated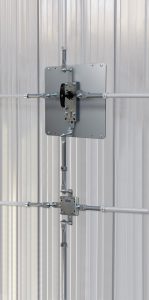 The armoured lock can be integrated with accessories which can make it even more resistant.
The internal protection plate (art. 1.8234.0465) with a thickness of 2 mm, made of case-hardened, tempered and galvanized steel, makes attempted drilling more difficult.
It is suitable for all types of garages with up-and-over doors, both those with European cylinder locks and those with a round cylinder.
There are also the adjustable tubular rods (single art. 8234.0028 and pair art. 8217.0028) made of galvanized steel. They are telescopic, adjustable and extensible from 88 cm to 165 cm.
By purchasing a 4-way auxiliary deadbolt (Art. 1.8324.D) it is also possible to further upgrade the security level of your locks. It is made of galvanised steel, having a reconfigurable movement, and enables the number of locking points to be increased, thereby increasing the resistance.
To best use the auxiliary deadbolt and install it correctly, there is the auxiliary deadbolt fixing screws kit (art 1.8234.0740.D) and il connecting rod kit, which is adjustable from 42 to 72 cm, (art. 1.8234.0028.D), as well as the floor striker (art. 8217.0069).
If you want to purchase everything you need to make your lock even more resistant to attacks and attempted burglaries in a single batch, you can also choose the complete kit (art. 1.8234.D028), consisting of 1 auxiliary deadbolt, 6 adjustable closing rods, 1 connecting rod, 1-floor striker and 1 kit of fixing screws.